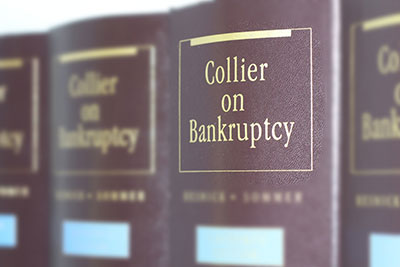 Administrative Creditor – Administrative creditors are creditors who have provided services or goods that benefit the Debtor. Because these creditors are extending these services for the benefit of the Debtor, and as a result for the benefit of the debtor's creditors, these claims are afforded a higher priority than the other unsecured creditors. 11 U.S.C § 503 and 11 U.S.C § 507(a)(2)
Chapter 7 – Is an option for both limited liability entities and Individuals under most circumstances. A Chapter 7 bankruptcy is a complete liquidation of all assets of the Debtor. The Debtor retains almost no assets, except exempt assets in an individual bankruptcy, but also discharges all dischargeable debts. Most Debtors will leave a Chapter 7 debt free, but will also be without any assets. A Chapter 7 trustee will be responsible for liquidating the debtor's assets and repaying its creditors. 11 U.S.C. §§ 701-727
Chapter 9 – is specifically for municipalities and makes up an very small portion of bankruptcies filed in the US annually. 11 U.S.C. §§ 901-946
Chapter 11 – Is an option for both limited liability entities and Individuals. A Chapter 11 can be either a reorganization or a liquidation. Chapter 11 bankruptcies are typically more complicated and expensive than a Chapter 7, but can provide significant benefit to both creditors and debtors in distress. A Chapter 11 allows the Debtor to remain in control of its financial affairs and allows the debtor to prepare a Plan of Reorganization. The Debtor may also determine that it is better able to liquidate its assets than a Chapter 7 trustee and may do so pursuant to a liquidating chapter 11 plan. 11 U.S.C. §§ 1101-1146
Chapter 13 – Is only applicable to individuals who fall within certain income and debt guidelines. A Chapter 13 is a reorganization that allows the Debtor to retain his or her house and car if they have sufficient income to support those expenses and repay the other creditors. Unlike a Chapter 11 reorganization a chapter 13 debtor does not remain in control of their financial affairs. 11 U.S.C. § 1301-
Chapter 15 – is for dealing with cross boarder insolvencies. Typically these are ancillary proceedings to a primary proceeding brought in another country.
Debtor – is the entity that is obligated to repay certain obligations which have necessitated a bankruptcy filing.
Discharge – is the order entered by the bankruptcy court discharging an individual Debtor from its debts. This order is typically entered after a trustee has fully administered the Debtor's assets, or after the Debtor has fully performed under its Plan of Reorganization. A limited liability company cannot receive a discharge if it is forced to liquidate its assets through a chapter 7 or chapter 11.
Insolvent – the bankruptcy code defines insolvent as a "financial condition such that the sum of such entity's debts is greater than all of such entity's property, at far valuation, exclusive of property transferred, concealed, or removed with intent to hinder, delay, or defraud such entity's creditors; and property that may be exempted from property of the [bankruptcy] estate under section 522 of the [bankruptcy code]." 11 U.S.C. § 101 (32)(A).
Non-Dischargeable Debts – the bankruptcy code provides that certain debts cannot be discharged through a bankruptcy. The most common non-dischargeable debts are marital support obligations, child support, debts incurred through fraud, claims not listed on schedules or creditors who did not receive adequate notice, student loans, intentional or grossly negligent actions causing injury to others, etc.
Plan of Reorganization – a plan of reorganization is proposed in a chapter 9, chapter 11, chapter 12, and chapter 13. Typically the plans provided in a chapter 13 are "fill in the blank" plans. Plans under chapter 9, 11, and 12 are tailored to a specific client needs. The complexity of each plan depends on the complexity of each debtor's particular situation.

Secured Creditor – a creditor who has a security interest in property owned by the Debtor. A secured creditor will get paid first from its collateral and if not paid in full will become an unsecured non-priority creditor.
Unsecured Non-Priority Creditors – also do not have security for their debts and are paid after the unsecured priority creditors. Secured creditors who were not paid in full from their collateral are included in this category.
Unsecured Priority Creditors – these creditors do not have security, but are afforded a higher priority claim against the Debtor because of the nature of the debts. An unsecured creditor is paid after administrative creditors but before unsecured non-priority creditors. These claims are typically wages and taxes. Creditors in this category must be paid in full before unsecured non-priority creditors are paid.